Сhoosing massage chair
A massage chair was first created in Japan and soon American manufacturers offered their own option of a robot physician. The increasing number of full-featured massage apparatus posed a problem of choice for the customers.
Specifics of the up-to-date equipment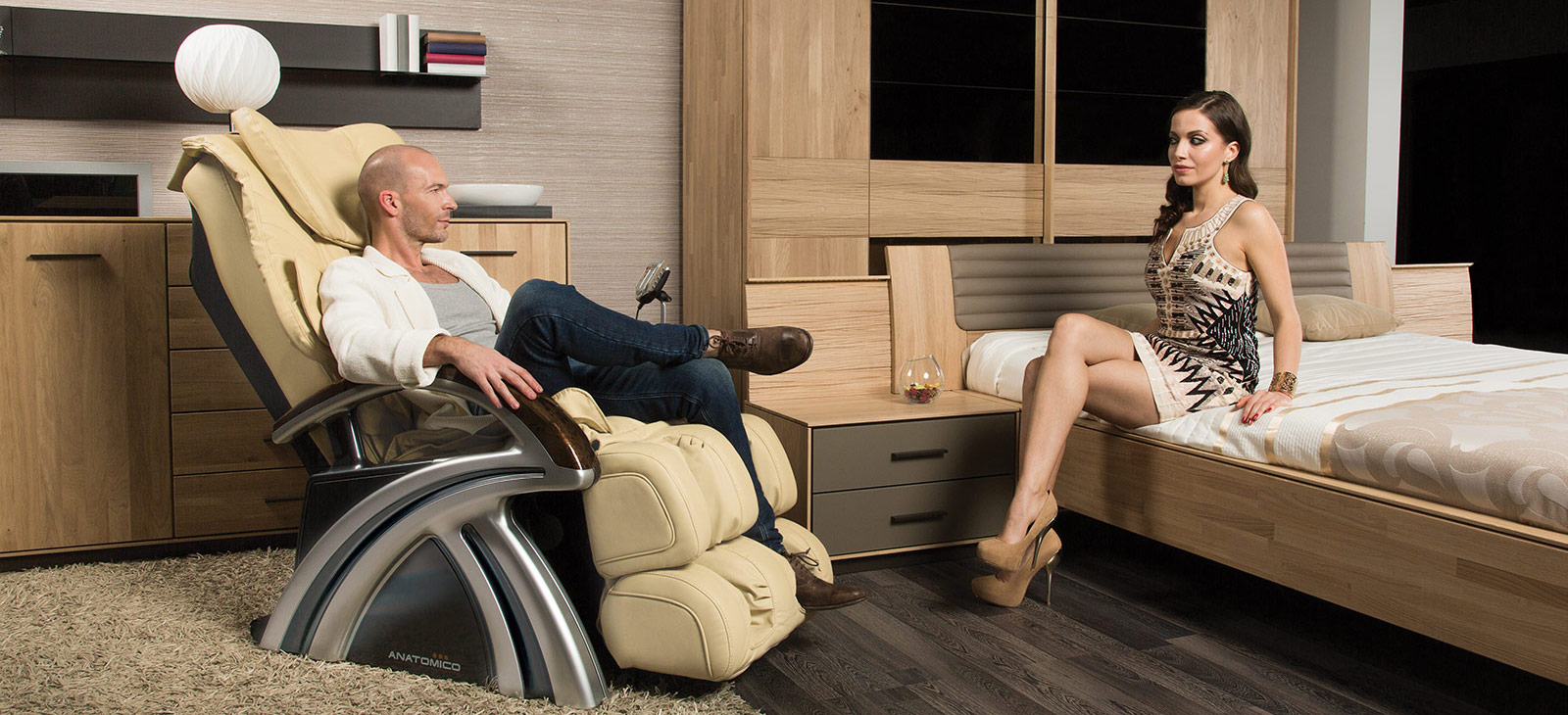 When creating the first massage apparatus the Japanese gave pride of the place to old school massage and needle therapy. The modern models of massage chairs differ from the original devices by:
• adaptability. Specific built-in sensors make it possible to customize a massage apparatus for each individual user. Anthropometric peculiarities are taken into account, i.e. human height, weigh, organization of the body;
• rapid detection of problem areas in user's body using computer sensors integrated into the chair system;
• identification of acupuncture points, i.e. specific points through which vital human power flows;
• diversity of functions and massage movements: vibrations, warm-up, percussion, patting, frolement, etc.;
• warming up of body muscles, for instance, back and loins zones using IR rays;
• possibility to add other devices to the chair, for instance, cushions for air-compression massage;
• chair operation adjustment at the will of the user which makes the procedure an individual one.
Advantages of massage chairs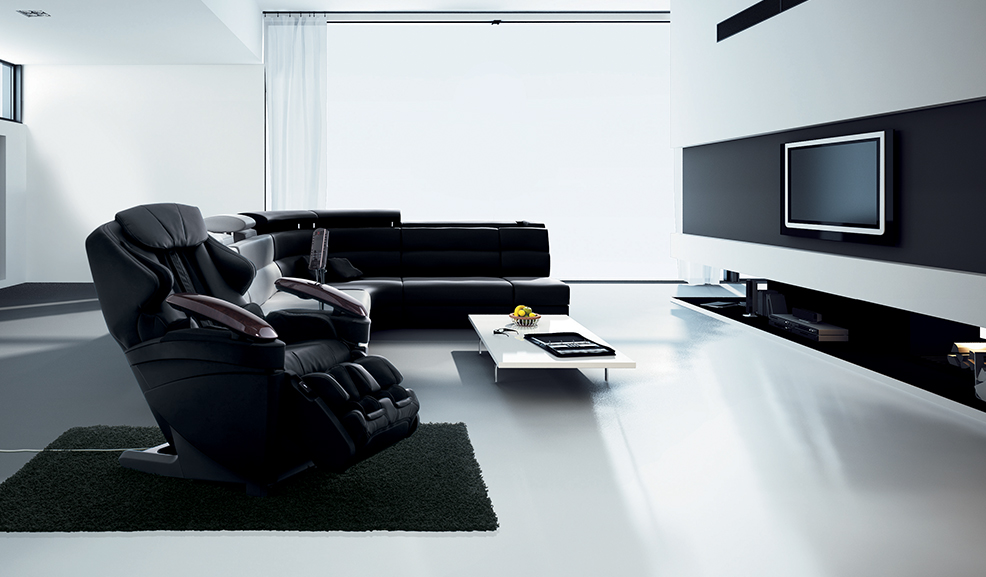 Use of a massage chair helps to relax and revitalize at the same time. The principal advantages of equipment use are: mitigation of fatigue and pain relieving in the problem areas, better blood circulation, metabolism normalization, mitigation of numb muscle effect.
In addition to these advantages, massage chair treatment procedures allow to boost the immune system and stabilize the psychological state. The patients who use the chair get rid of stresses, bilious headaches, soreness, and insomnia. A massage chair is the best choice for improvement of general physical and mental state and putting in cheerful frame of mind.
YAMAGUCHI (Japan): the innovative equipment manufactured by the company, a pioneer of massage chairs. The device is a complex with a wide range of functionality. The roller mechanisms move wave-like giving a deep massage of all body parts. Such professional chairs are in favor of premium massage connoisseurs.
US MEDICA (USA): a medical complex which has earned the loyalty of 90% buyers across the world. The brand distinguishes itself by implementation of technical and design innovations in the production process. The items of the manufacturer are provided with unique functions: HRI (heart rate monitoring system) and ZERO G ("zero gravity"). Information about the patient obtained by these systems is recorded to the device memory. Based on the recorded data, individual massage programs are designed.
Fujiiryoki (Japan) was the first company in the world to manufacture elite massage chairs which allow twisting oblique muscles and giving a cascade massage of arms.
Sanyo is a multi-use complex distinguished by practicability, versatility and long service life as well as availability of optimum massage type selection function.
IREST
chairs feature heat therapy function supported by greenstone projector. The massage apparatus provides 3 vibratory massage modes due to operation of 4-roller mechanism.
HT (China) is a good option for offices. The equipment is considered an economy-class model; however, the usability and functionality are not inferior to the abovementioned models.
Panasonic manufactures medium grade massage chairs since chair production is not the core profile of the brand but one of the numerous business lines.
How to select a massage chair?
Proceeding to selection of a massage chair it is important to decide:
• what for do you need a massage chair: for health care activities, for business, for putting it in a public place or office;
• what type of massage are you interested in: body health-promoting, back massage, relaxation, acupunctural, or intensive massage;
• what price tier is the most optimum for you.
A massage chair can give a massage which is just as goods as a massage given by professional massage therapists or chiropractics. Some device models give a gentle massage focused on tender points.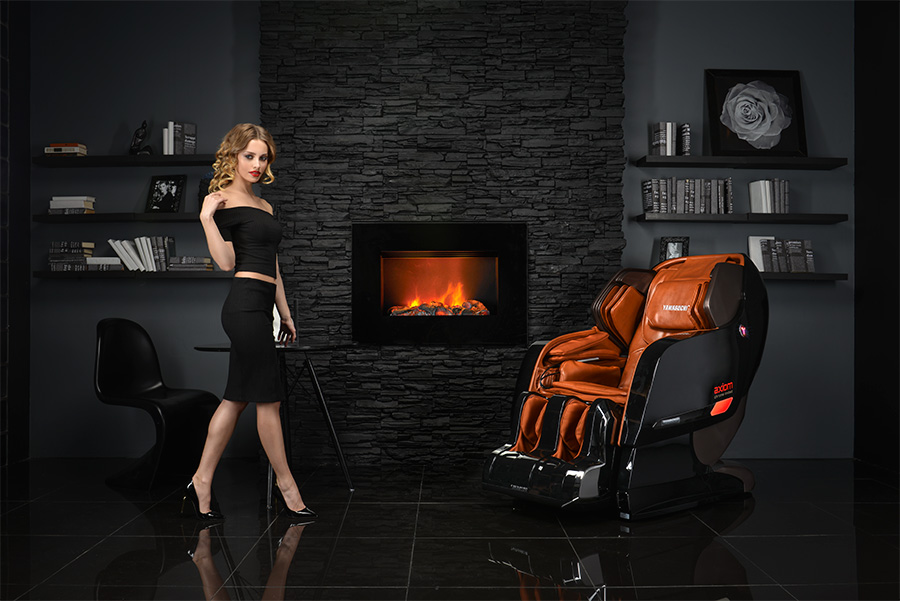 Massage chairs can vary depending on the variety of massage types, availability of additional functions, convenience, and comfort. The chairs with several motors are more efficient, multifunctional and durable.
Any massage chair is equipped with rollers which, in fact, massage the body surface. That's why the manufactures pay a special attention to the roller mechanism. The quality and efficiency of a massage chair depends on availability of a specific rollers set for a separate body area, roller mechanism design, its size and materials the rollers are made of.
The massage chairs can be manufactured with a cover made of natural leather or vinyl. If a chair has the heating function, then it is often covered with vinyl since the leather exposed to high temperatures may chap. If a chair is made using a combination of materials the chair components may wear out unevenly. Speed-controlled massage chairs must have a massage intensity controller.
Availability of numerous automatic programs is neither important nor relevant since their major portion can be realized by you through selection of the required mode. It may comprise the coverage width, initiation zone, and impact rate.
The following software can be installed in a massage chair:
• point massage or total massage of waist, shoulders or neck;
• leg / foot massage;
• action on acupuncture points;
• relaxation of the lower or upper body.
As far as the pricing policy is concerned, such models are the most expensive vs standard home of office chairs. However, a massage chair will be a good buy, a long-range investment which will help to keep up and improve health. Carefully read the chair user manual, compare functional features of different models. Each manufacture offers an appropriate selection of massage chairs from the most affordable to expensive elite options.
Let's consider the flagship massage chair YAMAGUCHI Orion.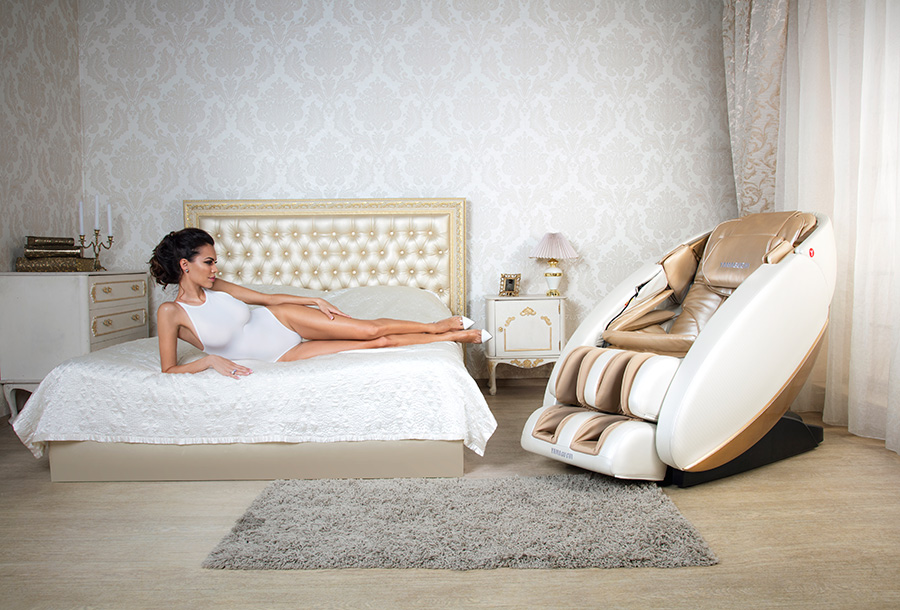 The device is in luxury class since it has a unique set of functions. It is valued chiefly for Wave-PRO mode which is capable to create a swinging effect due to the position change. Another exclusive function is Zero Gravity, i.e. possibility to switch the chair in a "gravity-free state" where the user does not feel his/her body and gets splendid relaxation of massaged muscles. This chair is is an excellent choice because of its luxury design and high quality materials.
Where can we buy a massage chair?
It is better to buy from companies or boutiques specializing in such devices. They must have their own showroom where a customer may see and try a chair. Such companies usually offer 1 – 3 years' warranty.
Types of massage chairs:
1. Vending: designed for installation in public gathering places, additionally equipped with cash collectors. Such a chair can give a short but quality massage. It is focused on foundation of a small business. For instance, Yamaguchi Axiom is one of prominent representatives of such type chairs. The device offers optimum functionality which allows for realization of additional profit in beauty salons, SPA complexes, fitness clubs, etc. Advantages of the model are Zero Gravity, Smart Slide, J-Line functions, etc. The chair allows for music synchronization. 38 cushions, 4 massage rollers, 6 massage modes will help to relax and revitalize properly. Such chair will never be vacant
2. Office: they are installed in working premises and offices for employees. The main goal of such massage chair is to loosen stiff muscles, improve the blood circulation, relieve stress, release from chronic fatigue syndrome. They are designed for high usage rate, accordingly, the office massage chair materials are high-strength and impervious to wear and tear. For instance, Yamaguchi Prestige chair is compact size which is very important for office space. Moreover, the model will help to instantly cheer up the employees and keep them bright-eyed and bushy-tailed all day long. The advantages of Yamaguchi Prestige are: strengthened design, control unit in Russian, availability of IR warming of lumbar region, 2 massage techniques: vibratory and shiatsu. It is the outright gift for any company.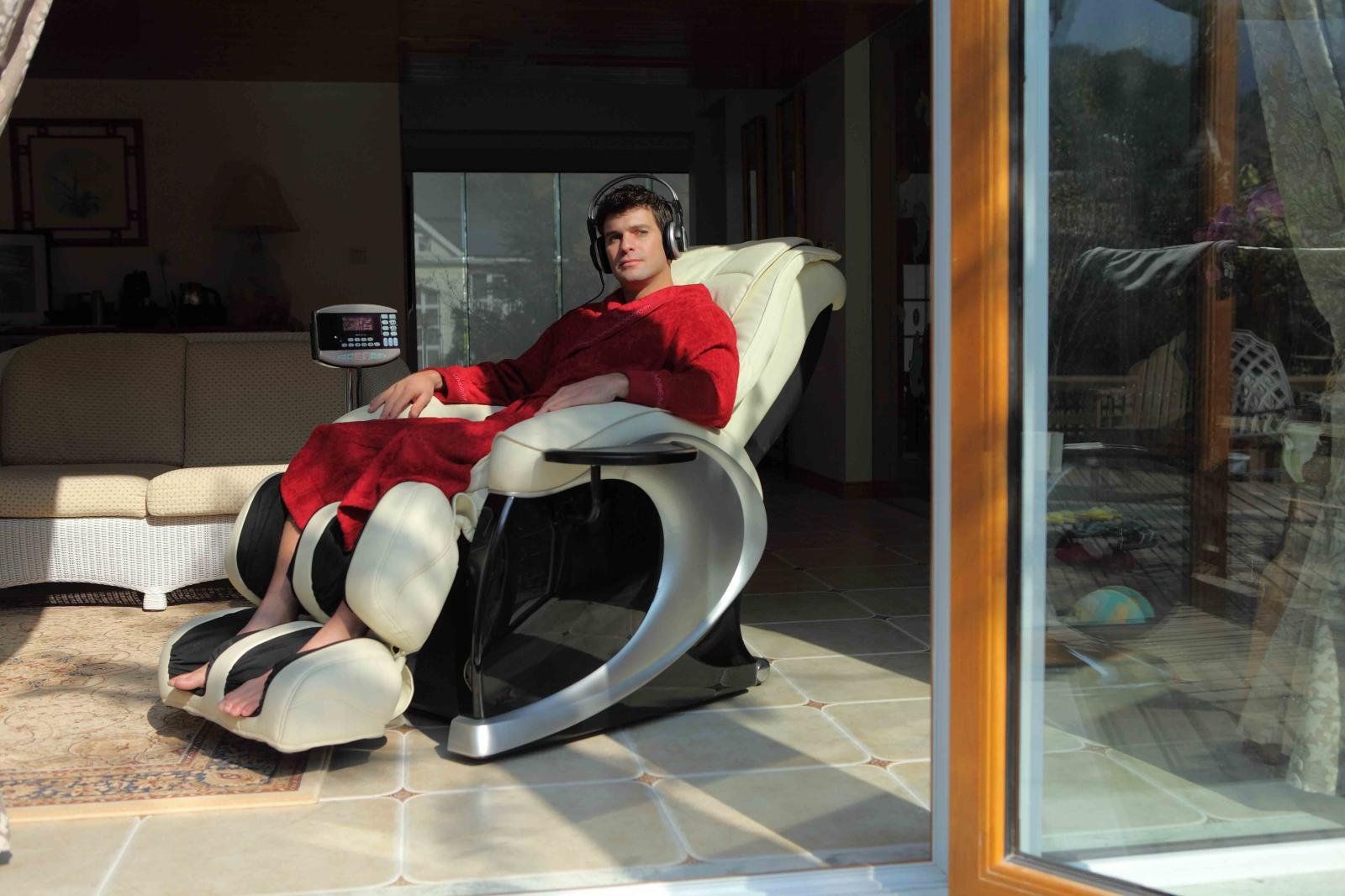 3. Home relaxation chairs are designed for use at home. They are notable for exceptional comfort, enhanced function set, and bigger size. Yamaguchi Axiom may serve as an example of such massage chair, a luxury model developed with view to save some usable space. It can be placed, virtually, by a wall thanks to J-frame in the design. This is a real massage center at home. The useful functional comprises the quality massage from the heat to the feet, synchronization with music, smartphone control and other innovations.
Another representative of this category is US Medica Infinity massage chair called "intellectual masseur" by the customers. The advantages: distinguished design, integrated pulse controller determining user's condition, ZERO-G function with gravitation effect allowing for natural sense of zero-gravity state.
A size-conscious and useful chair Yamaguchi Anatomico Perfetto will perfectly fit the interior environment. Its advantage lies in availability of multiple cushions which in a split second tune itself to user's individual body structure following its anatomic features. Such chair will be suitable for all family members regardless of their body sizes. Just sink into the chair and it will immediately tune to your body selecting the most comfortable massage to energize, relax and revitalize. The chair is equipped with a special gravitation mode which work wonders with the body. Embraced with Perfetto you will feel on top of the world receiving the high-professional massage.
Well, we have managed to make you aware of the key factors which shall be taken into account when selecting a perfect massage chair. So, you can select the most optimum option subject to the purpose of use, availability of additional automatic functions. A massage chair will become a permanent "massage therapist" for you who never gets tired and is always at hand at any time.
Все статьи